Water resistant woods: this is what you should know
When looking for the most befitting stain for your outdoor (or indoor) wood project, several factors need to be considered. There are two main stain types according to their bases- oil-based stain & water-based stain; and in specific conditions, one is practically better than the other. Depending on the type of wood, any previous wood treatment & weather exposure, both these types of stains offer different levels of coverage & protection. Here are some properties of both the the stain types to guide your decision:
- The water-based stain is breathable, does not emit harmful fumes or odors, is not flammable, dries quickly, retains its color for a longer period of time, offers a richer hue of color, is extremely resistant to mildew and mold, and is easier to clean requiring only soap and water; while
- the oil-based stain needs more time to dry that allows for a more even finish, penetrates wood deeper, requires less for long-term maintenance, is extremely durable and offers a thicker seal for wood. 
The type of wood also plays a key role in deciding the right stain. For example, when coating a wood with natural resistance to rotting, it is better to use a water-based stain. Examples of this kind of wood are cypress, cedar & redwood. 
Similarly, previous wood treatment is a crucial factor to arrive upon the correct stain. If the wood to be stained bears a previous coating of stain/ paint, care should be taken to ensure a new, even protective layer. It may be difficult to ascertain the previous layer,  but knowing it will undoubtedly help in choosing the apt stain. If the previous layer is oil-based, opting for a water-based stain now is advisable as the latter will adhere better as compared to an oil-based one.   
The kind of weather the wood will be exposed to is also significant in determining the best stain-base. If the wood element is going to have a direct exposure to rain, wind & sunlight, an oil-based stain is the best option. This is because it is more durable than a water-based stain, and will impart a much better protective cover against these weather conditions.
Interior spaces like bathrooms & kitchens are also in constant contact with varying levels of high moisture, especially bathrooms. And so, staining the floors & other wooden surfaces becomes important in these spaces too. In this image, the stained pine floor looks natural even in the monochrome design.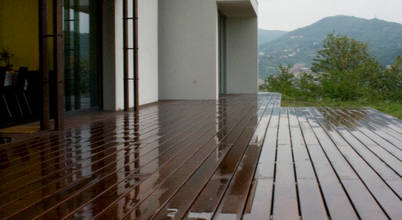 Water resistant woods: this is what you should know. An informative sneak peek into varieties of water resistant woods and stains & finishes to accomplish water resistant wooden elements for home spaces
8 Rot-Resistant Woods For Your Outdoor Projects. 8 Rot-Resistant Woods because the gravel will drain water quickly away from the cedar and does not retain moisture. For the interior of a raised bed,
Video of Water resistant woods: this is what you should know
Water resistant woods: this is what you should know
ood Is Waterproof? Water-resistant Woods. While all woods respond to water, some species last a little longer in wet and damp environments. Choosing Rot Resistant Wood. Using rot resistant wood wet wood, which is why you'll find termite damage in water logged areas of an old house. The soft pine, fir and other white woods that Naturally Rot-Resistant Woods. Naturally Rot-Resistant Woods. By Alex Wilson. At the same time as they interact with the soil to extract water and Using naturally resistant woods for 9 Mighty Woods For Outdoor Projects. Advantages and disadvantages of 9 outdoor woods. grained and are dimensionally stable and naturally decay resistant to stand out of the water. What Other Woods Like Teak Are Highly Water Resistant?. All woods are porous and will absorb water, some faster than others and with greater resistance to fungus and decay from being wet for extended periods of time. I'm
Tags: Water Resistant Woods: This Is What You Should Know
Water Resistant Woods: This Is What You Should Know
Water-Resistant Laminate Flooring
Water Resistant Laminate Flooring Kitchen Why You Should
Is Your Shower Tile Really Waterproof?
Water Resistant Shutters And Blinds
Is Wood Waterproof
25+ Best Memes About Creator Of Ifunny
35 Bamboo Flooring Ideas With Pros And Cons
What's Your Number: SPF Facts You Should Know
Learn Everything About Plywood
Cost To Frame, Insulate And Drywall Basement?
25+ Best Memes About Shine
How To Seal & Protect
Best 25+ Vinegar Wood Stains Ideas On Pinterest
Woodwork Wood For Outdoor Use PDF Plans
5 Things You Should Know About Toxic Mold Illness This
The GQ Guide To Watches Photos
25+ Best Ideas About Wooden Main Door Design On Pinterest
23 Life Changing Hacks Nobody Told You About
A Wood Bathtub??!! If It Really Works, It's Genius. Would
Cut Resistant Gloves, Professional Grade
Information
25+ Best Memes About Cigarette, Butt, And Funny
Mobil Memes, Outrage Memes
Incredible Plumbing And Pipe Diagram. Ever Wonder How Your
Understanding Fascia And Soffit Repair
What Are The Pros And Cons Of Medium-density
How To Dye Wood And Use Lime Wax To Finish Oak
Sneak Peek: A DIY Garden Arbor
IPX Rating System: What It Means And Why You Should Know
Dry Wall In The Master Bathroom
MarineWeld Syringe
Ultimate Black Silicone - 3oz
More Tips For Installing Wood Look Tile Flooring
Water Vs. Wood « Hardwood Flooring Guide
Sunscreen Tips You Should Use All Summer [Infographic]
17 Best Images About Butcher Block Counter Top Ideas On
25+ Best Memes About Rain
Termites How To Repair Termite Damage Damaged Wood Filler
Woodburning With Electricity
Teak Shower Caddies: Naturally Water-Resistant Wood
10+ Images About Woodstove HEAT On Pinterest
Here Is What Happens If You Drink Too Much Water
Reduce Creosote Buildup In Your Chimney
What Is Ponding Roof Water & How Do I Know If I Have It
Ridiculous Gimmicks : Panels On Pages
Cinderella In Rubber Shoes : REVIEW Title: Tuck
The Wood Database - Lumber Identification